Meet The Team
Introducing Miguel Navarro
and Julianna Gonzalez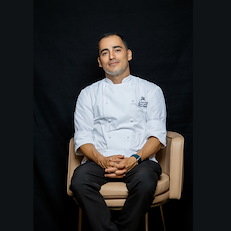 Miguel Navarro
Chef
Miguel Navarro
Chef
Miguel Navarro began his professional career at the age of 16 as an apprentice at the family restaurant on the island of La Gomera. He then studied hospitality in Tenerife, where he also worked in various hotels on the island.
In 2000 he started his first internship at 3-star Restaurante Martín Berasategui in the Basque Country and in 2005 he joined the Ritz-Carlton Abama Hotel, where he was part of the team which, under the direction of Martín Berasategui, achieved its first Michelin Star for the MB Restaurant. In 2010 he went to Germany to work with Chef Sven Everfeld, at the Restaurant Aqua awarded with 3 Michelin Stars, at the Ritz-Carlton Hotel in Wolfsburg.
He has completed periods of learning in several Michelin Star restaurants such as Piazza Duomo, 3 Michelin Stars in Italy, Azurmendi 3 Michelin Stars, in Bilbao or at the restaurant El Celler de Can Roca in Girona. For three years he was part of Martin Berasategui's team in Barcelona, serving as Second Chef de Cuisine of Paolo Casagrande in Lasarte restaurant, awarded in 2016 with 3 Michelin Stars.
Since 2017 he is the Executive Chef de Cuisine of the Restaurant Es Fum awarded 1 Michelin Star, located at the Hotel St Regis Mardavall. Returning to his roots in Mallorca, homeland of his grandmother.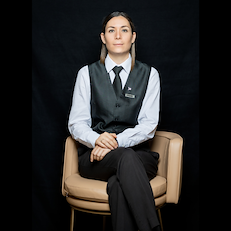 Julianna Gonzalez
Sommelier
Julianna Gonzalez
Sommelier
Raised in her family´s restaurant, Julianna has always been passionate about the hospitality industry. In 2017 she started working as a head waitress at the once Michelin restaurant, Es Racó des Teix in Deiá, where she discovered her love for wine. That same year she began her studies and became the head Sommelier of the prestigious restaurant. Two years later Julianna was named the best Sommelier in the Balearic Islands for 2020, as voted at the Sommeliers Spanish Championship Tierra de Sabor. She joined our Es Fum experts team to lead the wine pairing menu creation and ensure a perfectly accompanied dining experience for our guests.